Tucson, AZ – July 3, 2017 — Wheatmark, Inc. is pleased to announce the release of Restoring Character in America  by Michael J. Kerrigan. This is the author's third book about current events in America.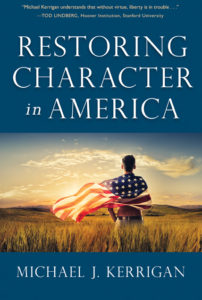 What defines "good character" to the average American? Is it what one does when no one is looking? Is it moral certitude about one's actions? Is it courage? Is it compassion? Can it be taught?
Restoring Character in America identifies the decline in character in our country, but then gives the reader hope for the future by showcasing leaders whose careers are successfully turning around this trend in our schools, communities, businesses, and the military.
For more information about the book, or to schedule an interview with the author, please call Mindy Burnett at 520-798-0888 x100 or email support@wheatmark.com.
About the Author:
Michael J. Kerrigan, a self-described recovering lobbyist, after spending thirty-five years in the political arena, has turned his advocacy skills to improving character education in our nation as founder of the Character Building Project.
More About This Title:
Restoring Character in America, ISBN 9781627875257, was released by Wheatmark, Inc. on June 29, 2017. The book has 112  pages and is being sold as a trade paperback for $9.95 and as an ebook for $4.99.
About the Publisher:
Wheatmark, Inc., founded in 1999, is a Tucson, Arizona-based publisher of trade titles that are available wherever quality books are sold worldwide. Wheatmark titles can be purchased in paperback, hardcover, or popular ebook formats. For more information, visit https://www.wheatmark.com.